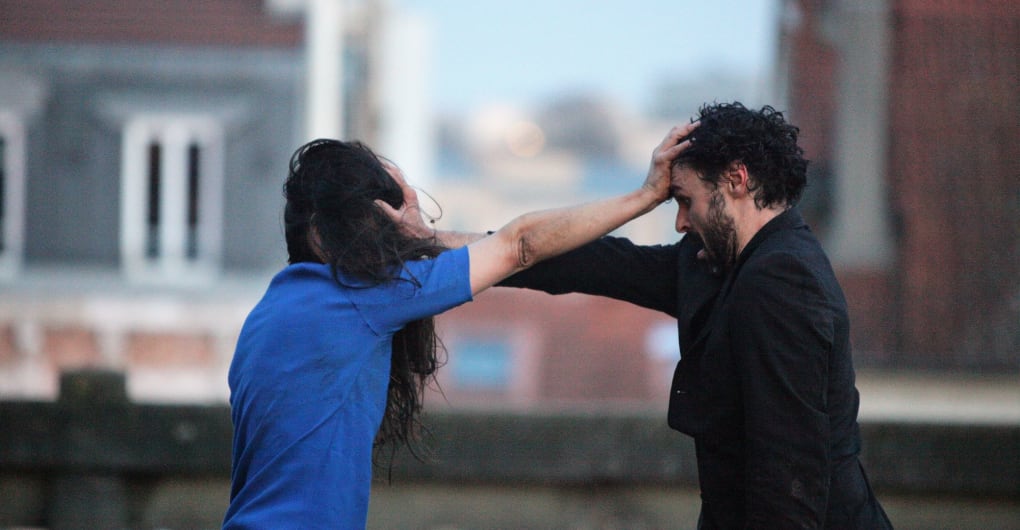 Satchie Noro and Dimitri Hatton met while performing Mohamed El Khatib's
Sheep
.
Things that became immediately evident to them were:
> A complementarity of bodies, physical forces and invested energies
> A pronounced taste for total physical involvement
> A pronounced taste for the sweating condition that is its outcome
> A total lack of sociocultural comprehension
> An uncontrollable attraction for shovels, axes, knives and other utensils with martial potential
> A strong feeling that tools do not only prolong human hands, but also human thoughts and desires
> Deeply incompatible temperaments
> Deeply compatible hair
> A pronounced taste for games. Games as the only possible escape from nothingness.
> An undeniable difference in biological sexes:
Satchie Noro and Dimitri Hatton are a woman and a man…
Bruissements de pelles
[
Rustling shovels
] is the passionate and forever recurring story of the mating dance. Acting simultaneously as scenography, accessories and partners, the farm tools that populate the dance have been accumulating throughout the creative journey of Satchie Noro and Dimitri Hatton. They are deployed as a veritable artillery of seduction, transforming their bodies, extending them, or ruffling them up. An indomitable proposition, choreographic and musical, where dance and burlesque meet, producing a singular poetry that reinvents itself from one space to another.
BRUISSEMENTS DE PELLES
Conception, performance
: Satchie Noro and Dimitri Hatton
Musical creation and performance:
Adrien Chennebault (drums, percussion) and Valentin Céccaldi (cello)
Production manager, Lighting:
Thierry Arlot
Thanks and gratitude to Carlotta Sagna and Silvain Ohl
Coproducers and other support: Relais Culturel de Flers 2 Angles / Culture Commune – Scène Nationale du Bassin minier du Pas-de-Calais / Les Noctambules - Michel Nowak de Nanterre / Brand & Nuance / With support from the Conseil Général de l'Essonne.
Calendar


2021
August 25-29 / Festival Les Rias (29)
2020
July 11 / Théâtre de Corbeil-Essonnes (91)
July 31 / Les Ateliers Médicis de Clichy-sous-Bois (93)
September 26 /
Festival Plages de danse of Sarzeau (56)