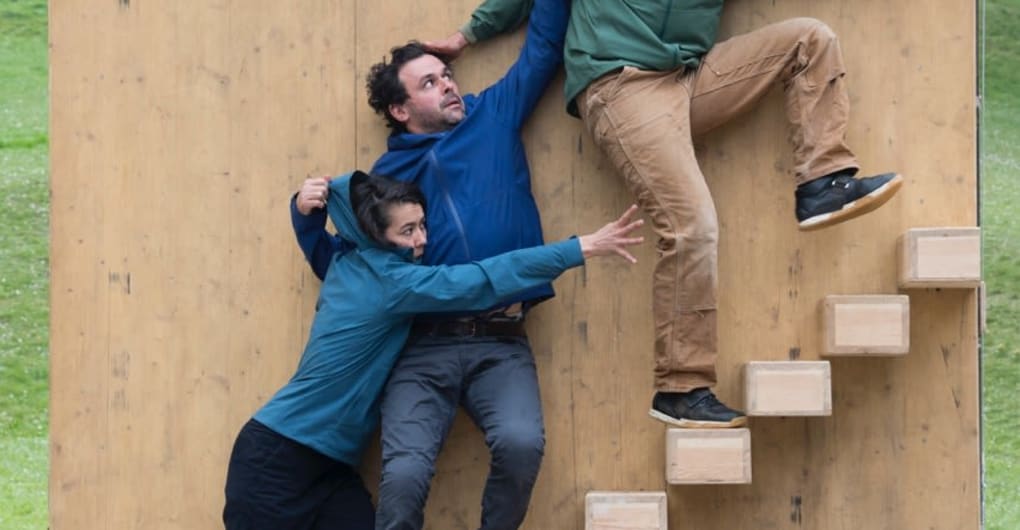 Satchie Noro, dancer, Dimitri Hatton, circus artist and clown, Samuel Dutertre, dancer, and Silvain Ohl, builder, come together to create Mind the gap, a stunning choreographic piece based on an unstable installation.
With its alternating construction and deconstruction, turbulent floor space and vertical axes, the scenography of Mind the Gap is an architectural space with precarious balancing points. A rugged yet teetering tower throws its menacing silhouette into the heart of an urban cityscape.
Entering into contact with it are three figures who move carefully yet audaciously, bursting forth with healthy solidarity. The slightest movement on their part could upset the structure's entire balance of power, a structure in a state of perpetual collapse.
At the heart of this avalanche of matter, they are twisting, bending, falling, gathering themselves again, catching themselves, adapting to the impossible, searching for a subtle equilibrium of masses.
The three performers are simultaneously operators of this curious installation and actors within it. They engage in acts of bravery: plugging the gaps, piling up the scattered debris, erecting dikes.
Shaping the surrounding chaos in order, perhaps, to build a better world. After all, why not?

Credits
Conception: Dimitri Hatton, Satchie Noro, Silvain Ohl
Directed by: Dimitri Hatton
Performance: Dimitri Hatton, Satchie Noro, Samuel Dutertre
Music written and performed by: Florian Satche
Construction: Silvain Ohl
Sound management: Vincent Mallet
Lighting design: Thierry Arlot

Première
30 March 2019 at Fontenay en Scènes
during the Val de Marne "Biennale de Danse"

Support
A co-production between: Studio Théâtre de Vitry, la Briqueterie - CDCN du Val de Marne, Fontenay en Scènes, Le Monuments Nationaux, le Théâtre de Corbeil-Essonnes / Communauté d'Agglomération Grand Paris Sud Seine-Essonne-Sénart.
Support: Les Noctambules - Lieu de Fabrique in Nanterre, Le théâtre Brétigny - scène conventionnée
With the support of: Direction Régionale des Affaires Culturelles d'Île-de- France – Ministry of culture and communication, the Île de France region and the Val-de-Marne département.

Coming Dates 2019:
April 6 / Théâtre Louis Aragon of Tremblay en France
April 14 / Biennale de danse du Val de Marne and Monuments nationaux in Domaine de St Cloud
April 18 / Studio-Théâtre of Vitry
April 19 / Biennale de danse du Val de Marne en partenariat avec le Studio théâtre Vitry
June 9 / Festival Parade(s) of Nanterre
July 14 / 3 bis F of Aix en Provence
September 28 / ​Théâtre of Corbeil-Essonnes
2020
March 17 / Scène Nationale of Orléans "Ça tricote au théâtre"