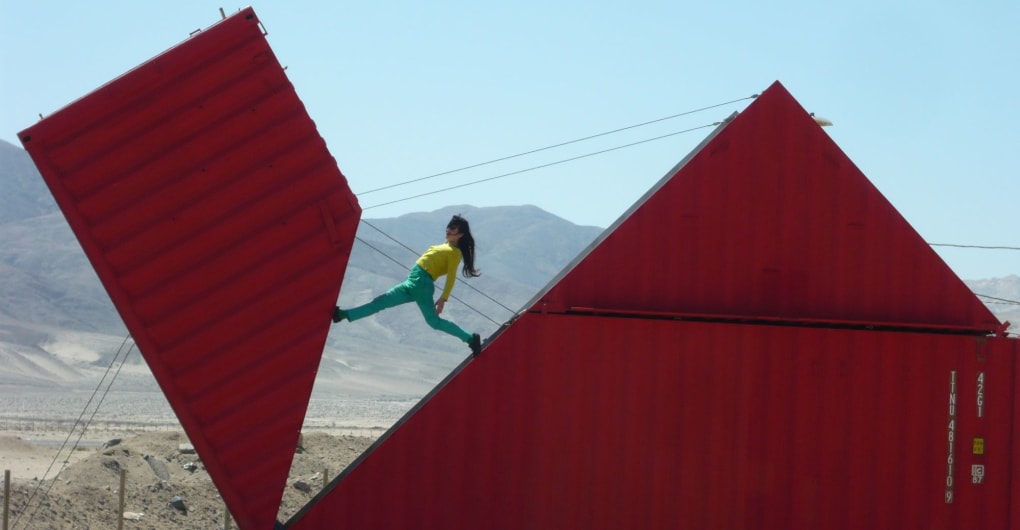 The container folds, the body moves

Origami, a playful and ancestral practice.
Container, a scenographic volume.
Dance, a motor for metamorphosis.
Globalization on a human scale.
Origami takes the container on, as a body.
Changing perspectives.
Folding of container.
Power and counterweight.
Weight and counter-power.
You so close to you.
Bend over backwards.
Rectangle, square, triangle.
Back to vertical.
Danced space, body inhabited.
Body danced, space inhabited.
Body to body embodying the set.
Industrial romanticism.
Poetic asylum.
And more if infinity.


ORIGAMI
Projection, Conception: Satchie Noro and Silvain Ohl
Construction: Silvain Ohl, Eric Noël and Harold Guidolin in Chile
Dance: Satchie Noro
Musical creation in France: Fred Costa, with the voice of Maia Barouh
Creation and musical performance in Chile: Carlos Canales
Costumes: Karine De Barbarin
Lighting: Thierry Arlot

Premiere of Origami / Third folding for the Biennale de danse du Val-de-Marne 2015
Premiere of Origami / Beyond the third folding for the Festival Teatro Container de Valparaiso 2016.

Coproducers: Centro Cultural Teatro Container Valparaiso / Les Noctambules de Nanterre / La Briqueterie, CDC du Val-de-Marne / Le Centre culturel de La Norville / Théâtre d'Arles / With support from the Conseil Général de l'Essonne and the Direction Régionale des Affaires Culturelles d'Île-de-France – Ministère de la Culture et de la Communication / With the help of Arcadi Île-de-France, Accompaniment project / Institut Français in Santiago de Chile / Institut Français Paris / In partnership with the Centro Cultural Teatro Container Valparaiso
Other funding and support: Générik Vapeur / Le Citron Jaune, Centre National des Arts de la Rue / Brand & Nuance / Groupe F / Le Théâtre Brétigny / Sud Side and their workshop / Taller El Litré

UPCOMING DATES 2020
June 7 and 8 / Carré-Colonnes, Festival Échappée Belle in Blanquefort
June 20 / Fontenay en Scènes in Fontenay sous bois
July3 and 4 / Festival "Cratère Surfaces" of the Cratère Scène Nationale d'Alès
August 27 to september 12 / Dancenet Sweden in Göteborg, Umea, Söderhamn, Uddevalla, Vara, Jönköping, Kungsbacka (SE)





Origami is part of the "Aerowaves Twenty17 Artist" selection.