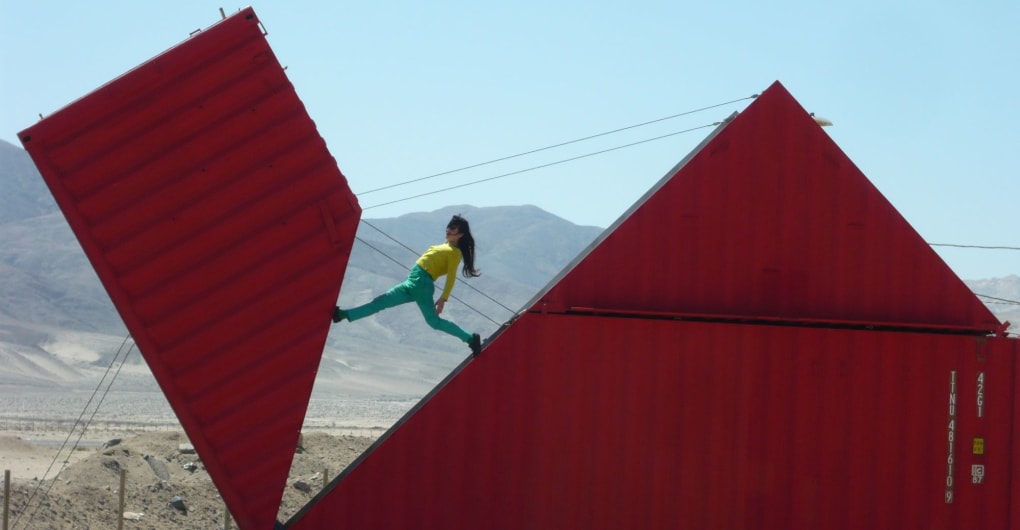 The container folds, the body moves
Origami, a playful and ancestral practice.
Container, a scenographic volume.
Dance, a motor for metamorphosis.
Globalization on a human scale.
Origami takes the container on, as a body.
Changing perspectives.
Folding of container.
Power and counterweight.
Weight and counter-power.
You so close to you.
Bend over backwards.
Rectangle, square, triangle.
Back to vertical.
Danced space, body inhabited.
Body danced, space inhabited.
Body to body embodying the set.
Industrial romanticism.
Poetic asylum.
And more if infinity.
ORIGAMI
Projection, Conception:
Satchie Noro and Silvain Ohl
Construction:
Silvain Ohl, Eric Noël and Harold Guidolin in Chile
Dance:
Satchie Noro
Musical creation in France:
Fred Costa, with the voice of Maia Barouh
Creation and musical performance in Chile:
Carlos Canales
Costumes:
Karine De Barbarin
Lighting:
Thierry Arlot
Premiere of
Origami / Third folding
for the Biennale de danse du Val-de-Marne 2015
Premiere of
Origami / Beyond the third folding
for the Festival Teatro Container de Valparaiso 2016.
Coproducers: Centro Cultural Teatro Container Valparaiso / Les Noctambules de Nanterre / La Briqueterie, CDC du Val-de-Marne / Le Centre culturel de La Norville / Théâtre d'Arles / With support from the Conseil Général de l'Essonne and the Direction Régionale des Affaires Culturelles d'Île-de-France – Ministère de la Culture et de la Communication / With the help of Arcadi Île-de-France, Accompaniment project / Institut Français in Santiago de Chile / Institut Français Paris /
In partnership with the Centro Cultural Teatro Container Valparaiso
Other funding and support: Générik Vapeur / Le Citron Jaune, Centre National des Arts de la Rue / Brand & Nuance / Groupe F / Le Théâtre Brétigny / Sud Side and their workshop / Taller El Litré
Origami is part of the "Aerowaves Twenty17 Artist" selection
Calendar
2022
June 4-5-6 / Théâtre Le Vellein at Villefontaine (38)
July 2 / Festival Embrayage at Saint Jean de Braye (45)
July 5 and 6 / Chemnitz (DE)
July 9-10 / Festival Transfert in Nantes (44)
October 8 / Festival Artonov Bruxelles (BE)
2021
June 5 and 6 / Carré-Colonnes, Festival Échappée Belle in Blanquefort (33) / CANCELED
July 3 and 4 / Festival "Cratère Surfaces" - Cratère Scène Nationale d'Alès (30)
July 8 and 9 / Festival Pop Up - le Manège de Reims (51)
July 16 to 17 / ​Le Sirque de Nexon (87)
July 19 / Festival Cluny Danse in Abbaye de Cluny (71)​
2020
June 20 / Fontenay en Scènes in Fontenay sous bois
August 27 to september 12 / Dancenet Sweden in Göteborg, Umea, Söderhamn, Uddevalla, Vara, Jönköping, Kungsbacka (SE)
2019
14 avril / Domaine de St Cloud dans le cadre de la Biennale de danse du Val de Marne et des Monuments Nationaux
25 avril au 3 mai / New Baltic Dance (LT)
10 au 12 mai / Arc For Dance Festival / Athènes (GR)
15 au 16 juin / The Pittsburgh Cultural Trust , Pittsburgh (USA)
2 et 3 août / Stockton International Riverside Festival ​à Stockton on Tees (UK​)
2018
2 au 11 mars / Festival Danza Barcelona (ES)
5 et 6 mai / Les Turbulentes Festival CNAR de Vieux Condé
3 au 17 juin / Tanec Praha Festival (CZ)
22 au 25 juin / DanceXchange Birmingham (UK)
29 au 30 juin / Festival .Org London (UK)
6 au 8 juillet / Deventer Op Stelten Festival (Hollande)
1 et 2 septembre / Dansehallerne Copenhague (DK)
28 au 29 septembre / Espace des Arts à Chalon-sur-Saône
30 septembre / Festival des Vendanges à Bagneux
6 octobre / La place de la Danse, CDCN de Toulouse​
2017
23 et 24 juin / Les Invites à Villeurbanne
8 et 9 juillet / Les Tombées de la nuit à Rennes
20 août / Darmstadt en Allemagne
26 et 27 août / BMotion-Operastate Festival Veneto à Bassano del Grappa (IT)
2 et 3 septembre / Coup de Chauffe à Cognac
14 au 16 septembre / Dansens Hus Norway à Oslo (NO)
11 au 15 octobre / Dance Umbrella à Londres (UK)
2016
5 mars / Dansfabrik à Brest : 5 mars
18 mars au 3 avril / V Festival Teatro Container de Valparaiso (CHILI)
3 et 4 mai / Espace Lino Ventura à Garges-Les Gonesse
15 mai / Fête de la danse à Genève (Suisse)
10 au 19 juin / Festival Oerol à Terschelling (Hollande)
25 au 27 août / Festival des Rias au Pays du Quimperlé
17 et 18 septembre / Théâtre Louis Aragon à Tremblay-en -France
22 et 23 septembre / Furies à Châlons-en-Champagne
24 et 25 septembre / Théâtre Brétigny, scène conventionnée à Brétigny -sur-Orge
1er octobre / Fête de Saint Denis
2015
Création pour la Biennale de danse de Val de Marne
​7 mars 2015 / Théâtre Antoine Vitez à Ivry sur Seine
15 mars 2015 / Centre Equestre Château Grosbois / Ville de Villecresnes
20 mars 2015 / Le Min de Rungis / Théâtre de Chevilly Larue
22 mars 2015 / Théâtre de Cachan
Diffusion 2015
6 juin / Festival de jour //de nuit de La Norville (91)
11 et 12 juillet / Festival de la Cité à Lausanne (Suisse)
26 au 8 août / Festival Paris Quartier d'Eté
1 août / Teatro a corte de Turin (IT)
26 septembre / Play Mobile à Châtillon
3 octobre / Carrément à l'Ouest à Port Saint Louis du Rhône
4 octobre / Théâtre de l'Olivier à Istres
10 octobre / Théâtre d'Arles
16 octobre / Festival aux Arènes de Nanterre (92)