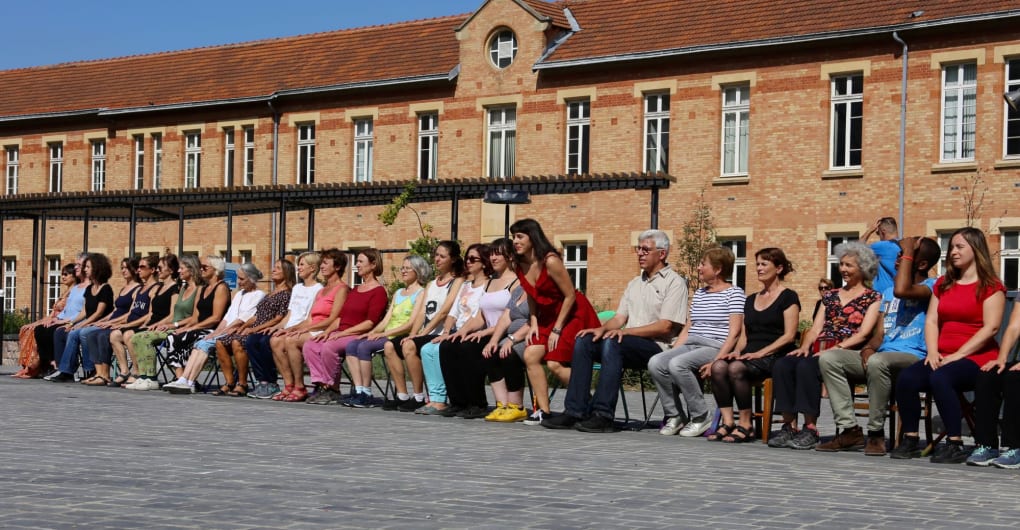 Una silla sola en el espacio
es un cuerpo incompleto.
Es la ausencia de alguien.
Es la espera.

Una silla inmóvil,
paciente y frágil
es la espera.
Pedazos de palo
anhelando otro cuerpo,
cuerpo humano que los haga silla.

Su madera se vuelve carne,
huesos, decenas,
tal vez cientos de
cuerpos que se sentaron en ella.

El objeto deviene en sujeto
de tanta ausencia que ostenta su figura.

De quien fue?
Quien se sentó ahí durante días, meses, años.

Fue la silla de un amante a distancia?
O la de un burócrata eterno?
Fue la silla de un niño mañoso?
O la de un gordo olímpico?
Dónde están sus hermanas de comedor?
Dónde están los cuerpos que recibió?

Acaso olvidaron cuando estaba en el centro de la fiesta, llevando a la novia que cargaron en andas?
O cuando el abuelo pasó tardes enteras sentado en ella escuchando por la radio noticias de la guerra?

Por qué cambian las sillas?
SILLAS
Sillas is a musical and choreographic installation project, a performative encounter in public spaces, which develops a process of creating movement based on the relationship between the body and an everyday object, the chair.
Sillas is a configuration, a mobile and ambulatory scenography, made up of around a hundred chairs, meant to be a place of exploration, metamorphosis, dialogue and construction, and of cultural, social and poetic identities.
A continuous folding and unfolding of the space, initiated by the dynamics of moving chairs, allowing territories of memory to emerge from their ephemeral tracings.
Sillas is a space for encounters, and collective research, that brings together a Chilean-French team, uniting choreographer Satchie Noro, theater director Nicolas Eyzaguirre and composer Carlos Canales. A place for expression and exchange, it offers a perspective on two cultural territories, one being Japanese-French, the other Chilean.
Conception and performance:
Carlos Canales, Nicolas Eyzaguirre, Satchie Noro, Juan Pablo Larenas
Scenography of chairs:
Silvain Ohl and Georges Matichard
Costumes:
Mayra Olivares Huerta
​With the help
of Millaray Lobos
Coproduced by: Le Fourneau - Centre national des arts de la rue en Bretagne / Théâtre Louis Aragon in Tremblay-en-France, under the auspices of « Territoire(s) de la Danse » 2017, with support from the Département de la Seine-Saint-Denis / Théâtre de Chatillon / With support from the Direction Régionale des Affaires Culturelles d'Île-de-France – Ministère de la Culture et de la Communication / With the help of Arcadi Île-de-France, Accompaniment project
Residency and construction: Le Fourneau / Théâtre Louis Aragon / Théâtre de Chatillon / Gavots en Provence / La Fontaine du Hameau
Other help and support: Les Noctambules de Nanterre / Taller El Litré / Centro Cultural Teatro Container
Performance dates


2021
September 4 / Festival La Grande Balade de la Communauté de Commune "Entre Beauce et Perche"
2019
April 14 / Domaine de St Cloud for the Biennale de Danse du Val de Marne and "Monuments en mouvements"
April 20 / Théâtre Fontenay en Scènes in Fontenay-sous-Bois
September 15/ MPAA Broussais (Maison des pratiques Artistiques Amateurs) for "Dansez-vous"